Big moves in a city near you…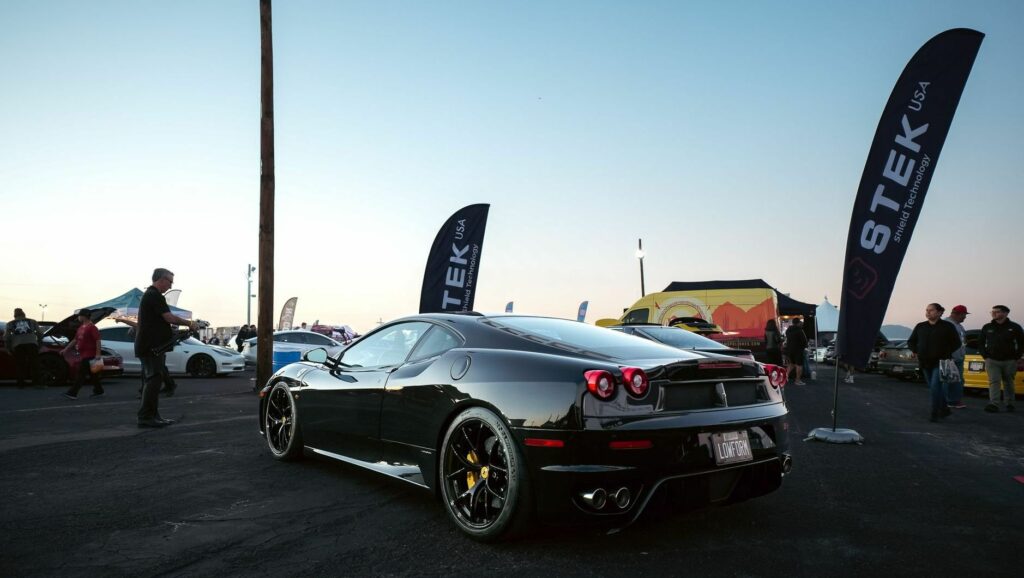 2023 marks our 7th year in the United States (or our 46th year in manufacturing) and with a growing network across the country, we are excited to bring out our jam-packed 2023 event schedule.
With products like window tint, paint protection film, and cosmetic fashion films, seeing is believing. We want to bring that ability to see, feel and understand what each STEK product offers to huge groups of car and motorsport enthusiast alike.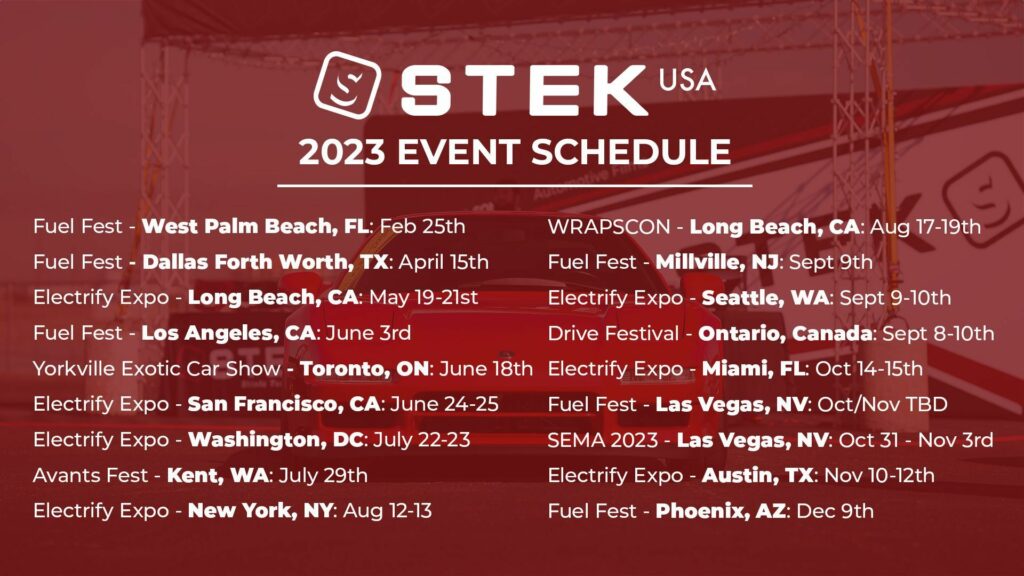 We are tackling this year with a full schedule that includes a variety of different shows and experiences for the car enthusiasts to be able to come out and interact with both us, and our products. From New York to Washington, and from Florida to California chances are we're coming to a city near you.
We want to make sure to make a splash when we participate. That's why we're the Title Paint Protection Film sponsor of Fuel Fest this year. Fuel Fest is a touring show geared to giving car enthusiast from all walks of life an incredible octane filled experience.
There is a traditional car show aspect with a wide range of European to JDM vehicles, through thick tire smoke you'll find the live drifting action with a chance to ride along, a beautiful stage with celerity performances throughout the show, and more. Fuel Fest directly benefits the Walker Family's Reach Out Worldwide non-profit organization and we're more than glad to have the opportunity to support a great cause and an amazing team. Check out one of last year's stops below!
Another tour we're extremely excited about this year is the Electrify Expo. With electric vehicles, e-bikes, and e-scooters quickly gaining popularity, the Electrify Expo delivers the complete EV experience. It's no secret that the leading EV manufactures have a limited selection of customizations you can select to make your vehicle your own and that's where STEK fits right in.
Electrify Expo is putting on the first-ever large scale electric vehicle after-market car show, called Showoff. STEK USA is the title sponsor of Showoff as so many electric vehicles are being modified with our colored and patterned fashion films. To us, that makes perfect sense, our cosmetic films are great way make your EV your own at the same time as protecting your investment.
Enthusiasts will have the opportunity to see some of the most unique EV's up-close and personal, and whether you're in the market for a new car or already have your vehicle it's going to be a great place to see and feel our different Paint Protection Films and Graphene infused Ceramic Window Tints in person too. Our booth will show you how paint protection films stop rock chips and make scratches disappear, and give you a chance to actually feel the difference in heat rejection you get with different levels of tint. We're here to help grow your knowledge on options for protecting and enhancing your electric vehicle in the most hands on way possible.
Passionate car owners will continue to invent new ways of standing out and we're here to continue innovating new products for you to select from. If you're interested in how you can get more involved at one of these shows, let us know.

Not on the above schedule, we are also putting together a couple of dealer conferences. These will take place for both STEK USA and STEK Canada installers. Our goal is to bring together installers and shop owners with varying experience to have an open conversation about how we can better the industry by running our businesses in the best ways possible. We also want to hear from our networks to understand where we should focus innovating to provide more value for everyone choosing STEK, so that installers to car enthusiast alike can continue enjoying the quality service and products we offer.
Stay tuned into our blog for more content soon and connect with us on social media @stekautomotiveusa!