Tap into heritage with our DYNOgreen British Racing Green PPF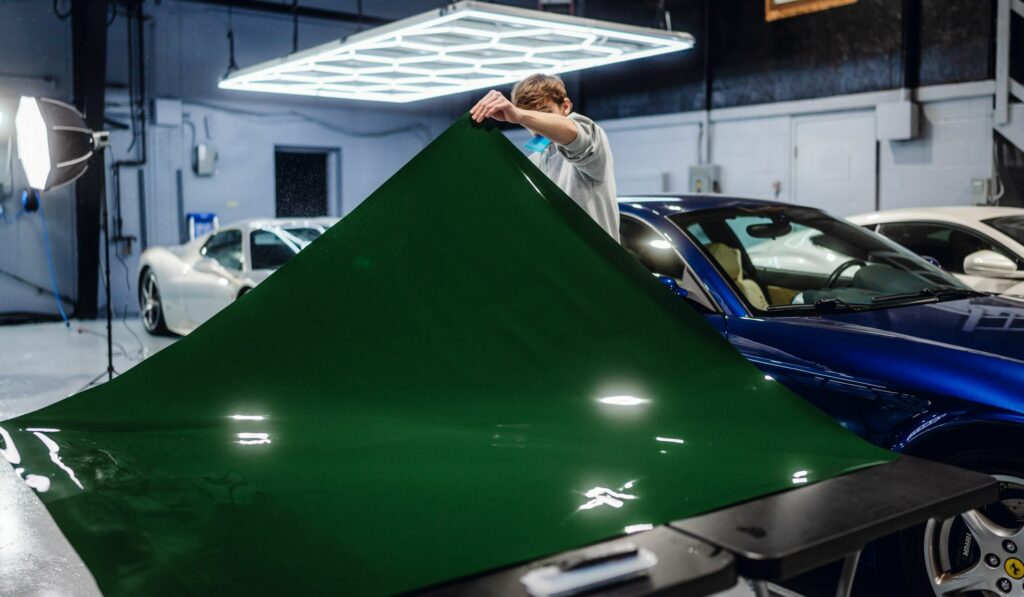 There's a long list of makes and models that have sported British Racing Green from the factory, typically with a strong racing emphasis at their root. There has been a wide variety of finishes, from pale to almost black green's sported, but the history lives on through Bentley, Jaguar, Aston Martin, and Porsche (to name a few) with high-cost paint to sample options and even throughout their modern day racing programs.
We landed on a rich forest green finish for our DYNOgreen, British Racing Green paint protection film. It's easy to recognize the emerald green finish cruising down the street amongst otherwise dominating neutral paint colors like whites, blacks, and silvers, ensuring to capture the attention of any bystanders.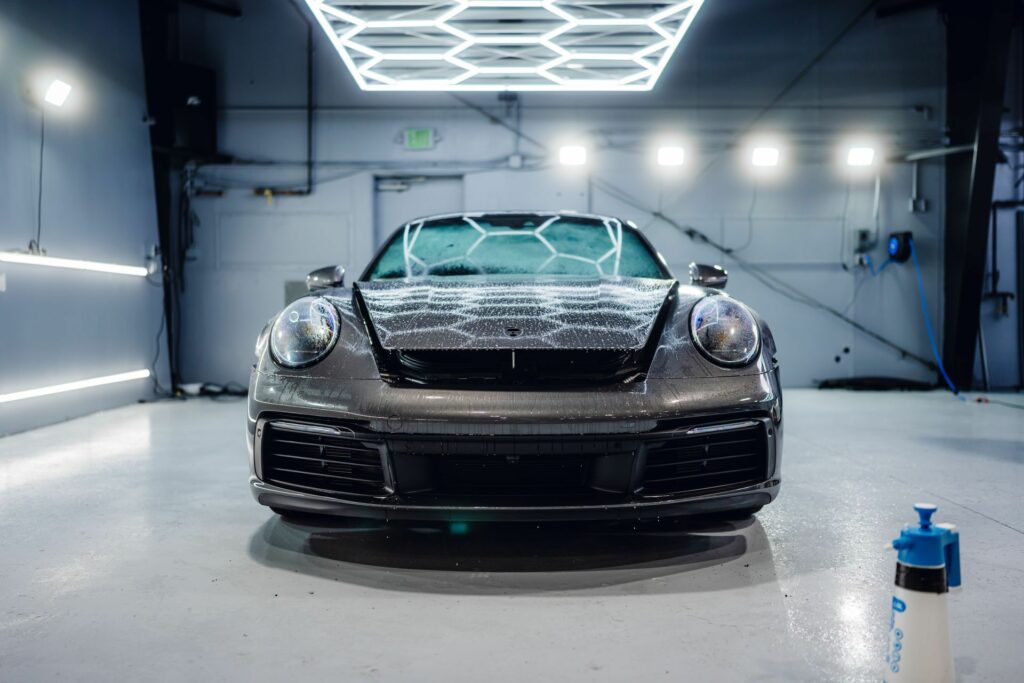 DYNOgreen PPF has our 10-year STEK warranty that covers any defects in material, as well as yellowing, bubbling, or cracking so you can be rest assured you'll get the most out of your investment. It will be easy to keep DYNOgreen looking new too with it's self-healing topcoat, which levels micro scratches from washing and daily driving back to a smooth glossy surface with a simple application of heat. It also has a hydrophobic top-coat that allows dirt and grime to quickly wash off for an easily accessible showroom ready finish.
Let's dive into the first candidate for this full body paint protection film color change… a beautiful 2022 Porsche Carrera.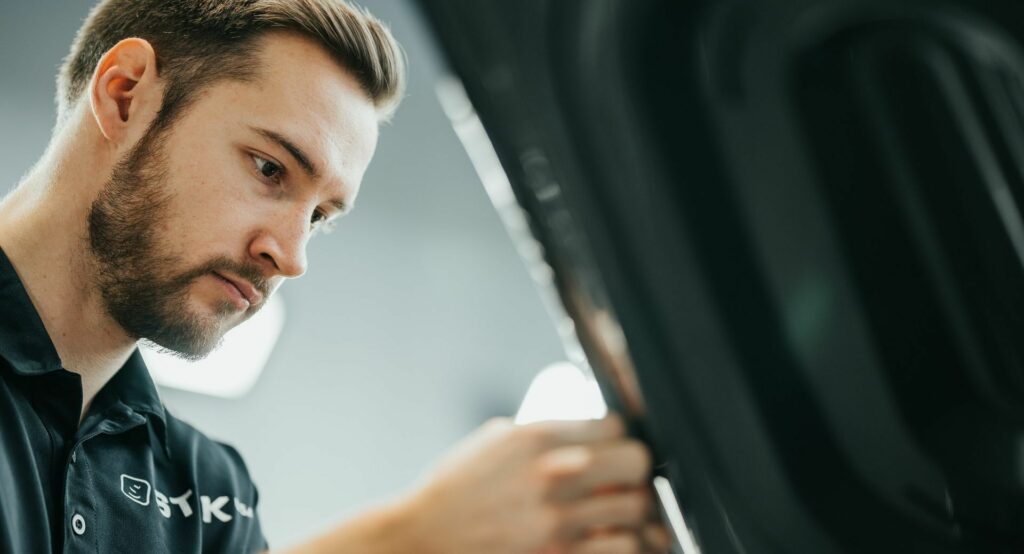 As a PSA, completing proper prep is essential for any successful film installation, and color change requires an even further level decontamination and in some cases, dismantling and disassembly of panels so each edge can be wrapped for seamless coverage years down the road. Here the vehicle underwent removal of it's existing clear PPF and each panel was then polished and paint corrected, before a thorough Isopropyl wipe down and some disassembly.
Yup, that's right. Even if you have existing paint protection products like a ceramic coating or clear PPF installed, you can still change it up with some removal and new application of one our Fashion Film PPF's, that offer the same level of protection and durability against scratches and rock chips as traditional clear bra.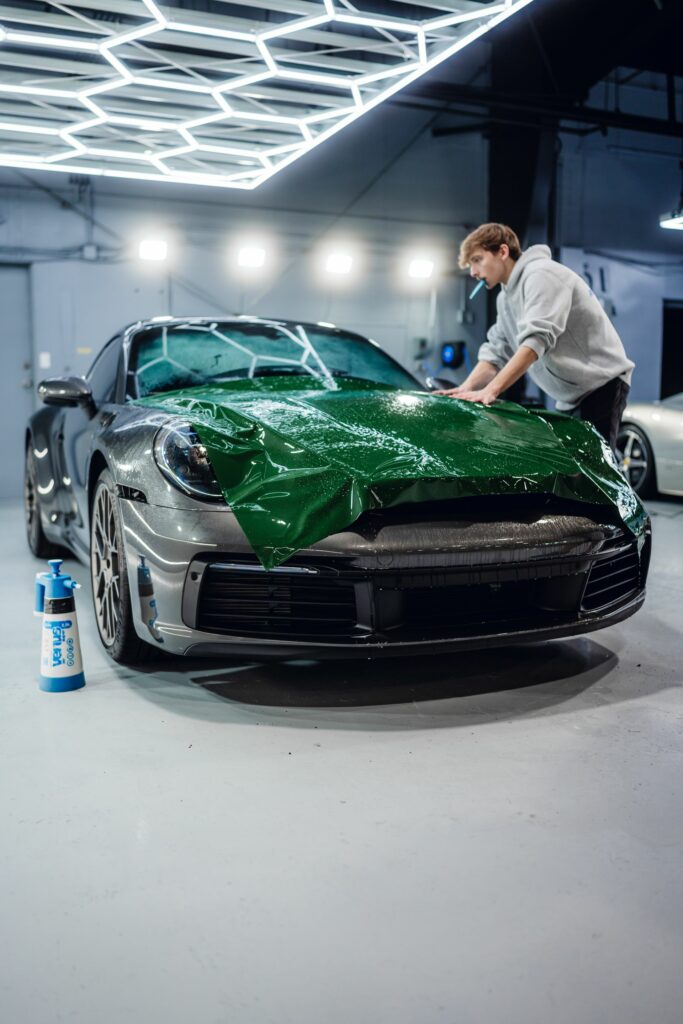 Pictured above the team at Reflected Images Custom Detailing in Forest Hills, Maryland tackle the hood of this full body color change first, quickly gaining confidence with the material as it stretches and tacks similar to our popular DYNOshield. However, the challenge of not being able to see through it like traditional clear bra requires going extra slow to make sure everything is aligned properly. That directly plays into their very detail oriented and well executed wrapped edges so that this Porsche look will look like it was painted British Racing Green to any passing admirers.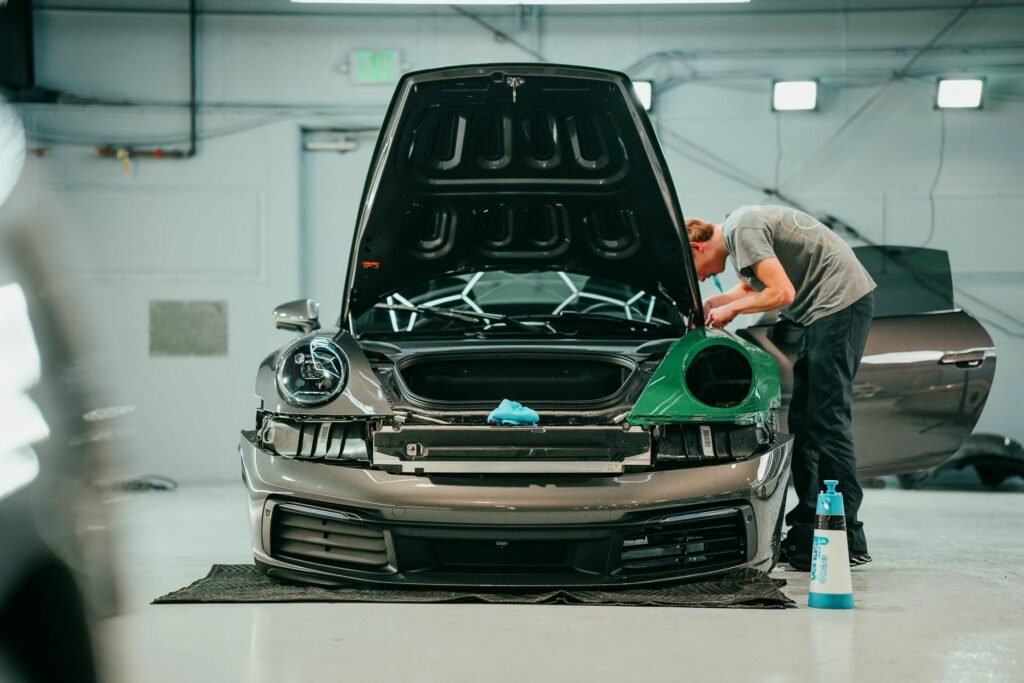 With the fender liners and headlights removed, and front bumper loosened the team are then able to dive in to each corner of the front fenders. Their attention to detail and persistence towards quality is exactly what will ensure a convincing, painted like result for this beautiful Porsche's transformation!
The first panels are done and the Reflected Images team are able to make steady progress covering each other surface of the vehicle seamlessly as possible. Color change PPF is not for the faint of heart as the attention to detail and diligence to to make the install look as good as they are, requires a unique and highly skilled installer.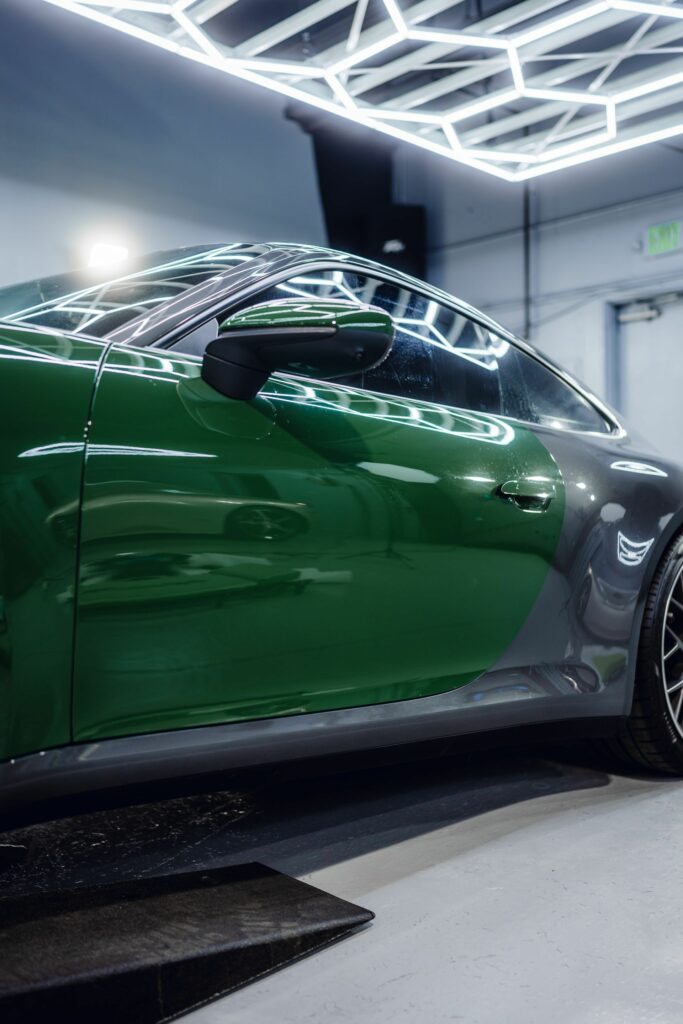 Multiple hours into installation everything is starting to come together. This once Agate Grey Metallic Carrera is taking on a very green look, and we think it looks like its supposed to be on this fine piece of German engineering and machinery.
If you're considering a full color change PPF for your vehicle, we encourage you to have in-depth conversations with your installer to understand the level of disassembly and coverage that can be expected, as well as the timeline. These kinds of transformation projects take time to do right!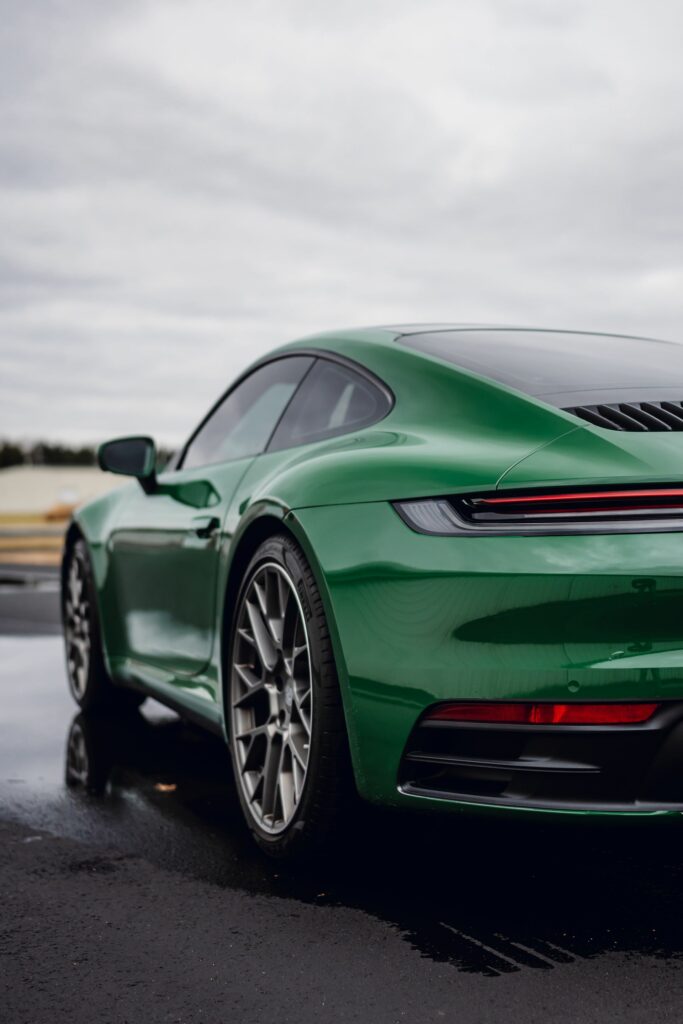 Let us know what you think by connecting with us on Social Media @stekautmotiveusa or submitting a contact form here!
Thank you again to the team at Reflected Images Custom Detailing for the phenomenal craftsmanship and support in completing the first-ever DYNOgreen Paint Protection film color change transformation on this stunning Porsche.
Didn't get enough? Check-out our YouTube DYNOgreen release video here: https://www.youtube.com/watch?v=E08TFgTx1zA