ACTIONseries
Carbon Ceramic Window Tint
ACTIONseries
STEK ACTIONseries window tint film is a Nano Carbon tint that provides a stylish look, heat rejection and 99% UV protection. Its quality materials offer superior performance and outstanding color stability. STEK stands behind ACTIONseries window tint with a limited lifetime warranty against fading and peeling as well. Get your tint now!
The ACTIONseries Difference
---
Heat Reduction
ACTIONseries delivers a Total Solar Energy Rejection (TSER) of up to 55% while also providing a shading coefficient as low as .51 to help keep the interior of any vehicle cooler and more shaded. STEK ACTIONseries blocks 99% of the UV rays that can cause skin cancer and other health concerns as well as damage vehicle interiors.
---
Clarity, Haze & Glare Reduction
STEK utilizes premium base materials and a high-quality manufacturing process to deliver a clearer tint that helps reduce glare. See the road more clearly and with less eye strain
---
Signal Strength
Nano Carbon construction will not interfere with WiFi, cellular or radio frequencies to keep the navigation and the music streaming.
---
Privacy
ACTIONseries blocks up to 95% of light into the vehicle, which can offer a more private driving experience.
---
Limited Lifetime Warranty
ACTIONseries window tint has a limited lifetime warranty against fading, delamination, bubbling and cracking
---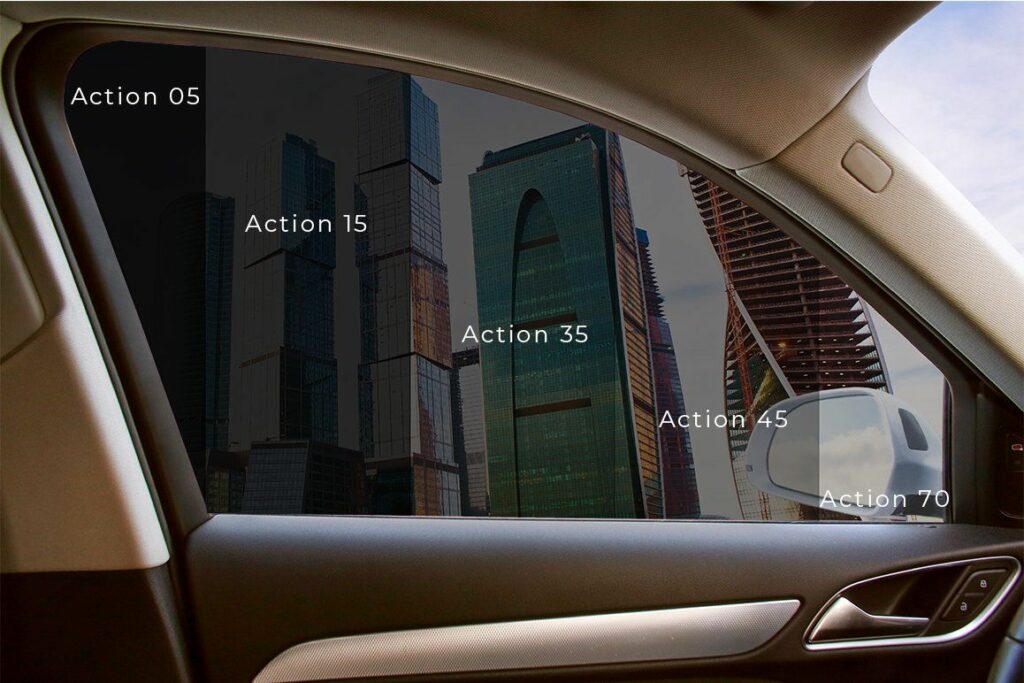 Size
20″x 100′ / 40″ x 100′ / 60″ x 100′ — Custom Widths Available
| Name | VLT | IR (900~1,000) | IR (780~2,500) | UV Rej. | Glare Reduction | TSER |
| --- | --- | --- | --- | --- | --- | --- |
| ACTION 05 | 7.10% | 68% | 57% | 99% | 93% | 55% |
| ACTION 15 | 14.00% | 57% | 46% | 99% | 84.20% | 50% |
| ACTION 35 | 33.90% | 39% | 31% | 99% | 65.20% | 38% |
| ACTION 50 | 45.10% | 30% | 23% | 99% | 50.30% | 33% |
| ACTION 80 | 78.40% | 37% | 65% | 99% | 24.40% | 32% |