Our fashion films are paint protection in addition to a color change.
STEK fashion films combine the protection properties of our clear paint protection films, such as DYNOshield and DYNOmatte, with stunning colors and exclusive patterns to provide excellent protection and customization for your vehicle. This means our colored films are roughly 3x more durable against rock chips and scratches than a vinyl wrap equivalent and last about 3x as long with their 10-year warranty. Before we dive into the colors and unique patterns our fashion films are available in, let's talk about how colored paint protection film differs from vinyl wrap.
Beginning with the material, all of our fashion films (and PPF products) are made with a high-quality, US-sourced TPU (thermal polyurethane plastic) versus vinyl wraps, which are made with PVC (Polyvinyl Chloride plastic). TPU allows our products to have a much smoother finish and richer color than thinner PVC vinyl alternatives. Our films also use a proprietary SiO2 top coat unique to STEK that is bonded to the film, making the surface extremely hydrophobic and easier to clean. Our sourcing of high-quality raw materials all the way down to the paint colors we infuse, gives STEK's colored film a paint-like depth that can fool even the most well-versed automotive enthusiast. So, is Colored PPF better than Vinyl? We may be biased to say yes; read on to find out why.
Enjoy your new color AND all the benefits of PPF, including:
Puncture Resistance

: Our paint protection films shield your car's paint from damage from rock chips and other debris.

Hydrophobicity (Advanced water-repelling properties)

: Our film's advanced hydrophobic properties repel water, keeping your car or truck cleaner. Hydrophobics creates water beads that trap dirt and then run off your car's paint, requiring less effort to keep clean between washes and while washing.

Anti-Contamination

: Effortlessly fend off dirt and grime! Our Paint Protection Film's anti-contamination feature makes cleaning a breeze, it's still important to clean though. If you have any questions on how to clean STEK, check out our FAQ here.

Self-Healing Fast Recovery (by heat or hot water)

: Light surface scratches and swirls disappear with heat, leaving your vehicle looking new with a constantly smooth finish free from any visible wear and tear. This is one of our favorite properties to PPF because it makes keeping your car or truck looking new for years down the road.
Check out some of our color paint protection options!
Our fashion films are currently available in eight different colors: DYNOblack, DYNOred, DYNOgray, DYNOwhite, DYNOmiami-blue, DYNOpurple, DYNOshift-green, DYNOgreen (BRG), and DYNOprism. Now, let's walk through these stunning color paint protection film options. If you've heard about our patterned or decorative PPF's, you can view those here.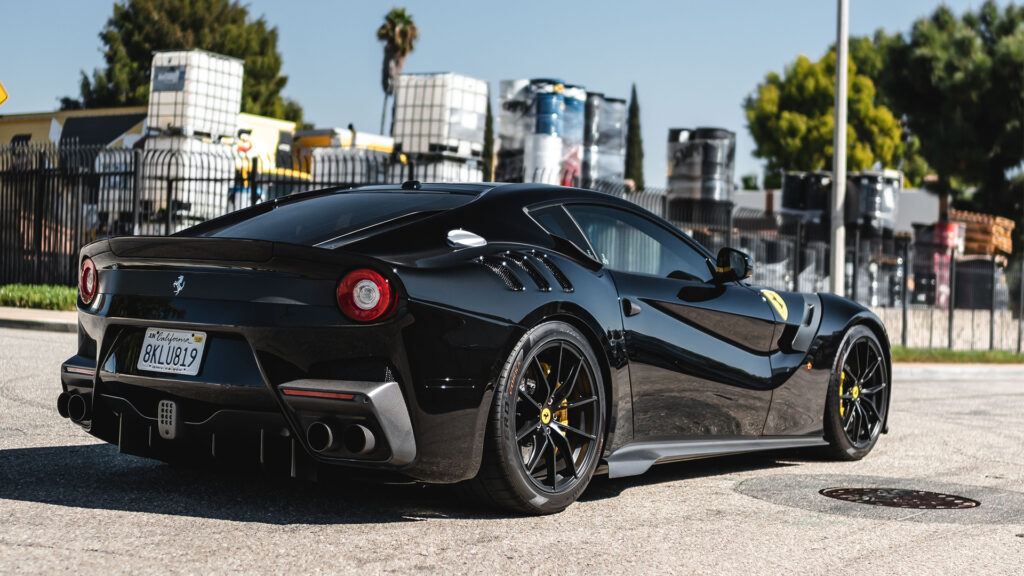 The stunning Ferrari TDF is wearing our DYNOblack fashion film, installed by Impressive Wrap in El Monte, CA. Showcasing our matte black paint protection is the latest generation BRZ adorned in DYNOblack-matte by Bespoke Tint & PPF in Bellevue, WA. The Porsche Boxter received a full body color change from orange to red courtesy of DYNOred and Ghost Shield Film in Thousand Oaks, CA. Our DYNOgray paint protection film can be seen here on this Chevrolet Corvette from Empire Auto Spa in Central Florida. The iconic Porsche 918 Spyder was dressed in DYNOmiami-blue by Silicon Valley Garage in Santa Clara, CA. One of our newest fashion films, DYNOgreen, shown here on an S4-swapped Audi Avant, was wrapped by Invictus Auto Salon in Fort Collins, CO. Rounding out the display of our fashion films are two eye-catching Telsas from Metropolitan Detail in Redmond, WA.
DYNOblack-gloss transforms any color paint into a protected high gloss black finish thanks to our signature piano black coloration.
DYNOblack-matte infuses our deep black coloration into an exclusive matte finish, giving you all the benefits of matte paint without the hassle of caring for it.
DYNOred boasts a gorgeous red finish with unmatched clarity and style with superior protective properties. Enjoy both years of outstanding protection and a dazzling, custom look with this bright red paint protection film.
DYNOgray transforms any original color into a sleek and polished light gray color, all while providing long-lasting protection against rock chips and scratches.
DYNOwhite is a white-colored paint protection film with a dazzling pearl finish. Providing an incredible depth and gloss, DYNOwhite adds a luxurious touch to a neutral classic—all while preventing damage on the road.
DYNOmiami-blue transforms any paint color into a tropical bright blue, all while providing durable protection against rock chips and scratches.
DYNOshift-green is the first limited production film STEK has released, bringing to market only 250 rolls. This film captures one of our favorite paint-to-sample options, inspired by Phython Green, with a true rock chip-stopping and self-healing paint protection kick. This option provides a rich green-to-gold color shift behind an intense metallic flake, ensuring you stand out among the rest while protecting your investment.
DYNOgreen (BRG) is our cosmetic PPF designed to transform any color paint into a classic British Racing Green via a protective film for your automotive cars and trucks with serious durability. Our DYNOgreen Paint Protection Film offers a rich forest green finish and protection against rock chips, scratches, insects, bird droppings, road oils, yellowing, and staining and is warranted for 10-years.
DYNOprism is a metallic flake color shift film. It also offers protection from rock chips and a unique visual transformation. The color shift changes based on the base color of the paint underneath. This has been extremely popular on a lot of EV's and we love seeing the variety of unique builds it's inspired for enthusiasts alike.
We didn't meet the standard, we created it.
At STEK, we are committed to innovation, creation, and protection. That's why we didn't just stop with color when creating our fashion films, we also offer four different patterns: carbon fiber, forged carbon fiber, Damascus, and camo. These four patterns are available in multiple variations, meaning you can customize your car and get the protection you need in one product.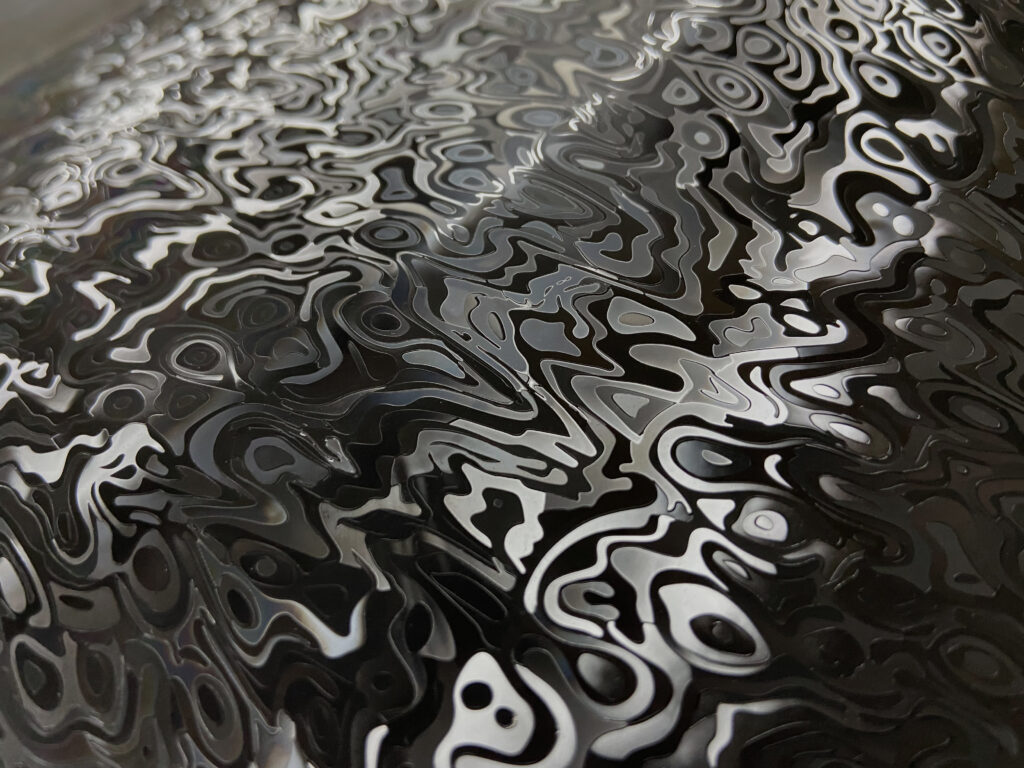 Overview of our pattern paint protection film options.
DYNOcarbon is a woven carbon fiber-styled paint protection film with a durable topcoat. DYNOcarbon allows you to change and protect the aesthetics of any vehicle with color-matching carbon fiber-styled Paint Protection Film. Perfect for hoods, roofs, spoilers, and accent pieces that need world-class protection with a unique twist. We offer DYNOcarbon in four options: DYNOcarbon-clear, DYNOcarbon-matte, DYNOcarbon-semi-gloss, and DYNOcarbon-gloss for those that want one of the most realistic carbon fiber films available.
DYNOforged-carbon combines a timeless design with various rich and high-quality aesthetics. Choose from a classic matte black, or high-gloss black, metal (silver), and an exclusive red-wine option to get the colored film that fits your car or truck best. These striking forged-carbon patterns offer a distinctive flare certain to stand out on any surface.
DYNOdamascus is a stunning paint protection film featuring a Damascus steel pattern and is available in paint-color-preserving clear(DYNOdamascus) or our signature true black (DYNOdamascus-black).
DYNOcamo is a camouflage paint protection film available in two options: DYNOcamo-black, our high contrast gloss black to metallic, and DYNOcamo-gray, a chalk gray to metallic camo pattern.
Paint Protection you can count on!
All STEK Fashion Film's are warrantied for 10 Years against delamination, yellowing, bubbling, and cracking.
Thank you for reading along. Have a color you'd like to see us offer a fashion film in? Let us know by getting in touch here! And as always, if you have any questions, don't hesitate to get in touch with us directly or on social media anytime!
Stay tuned in with projects getting done in STEK's fashion films every day across our social media here.